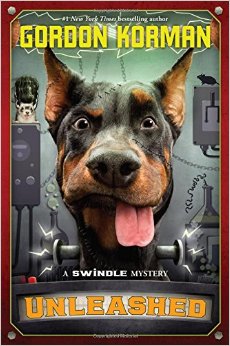 Gordon Korman's Swindle Series has been going on for quite a long time, and now the seventh book of the series has been released: Unleashed, in which Griffin Bing's (aka The Man with The Plan) school is going an invention contest, and he's competing against Darren Vader. There is thievery, breaking into government buildings, and knocking off the power grid for miles around
Summary
When Griffin starts getting congratulatory remarks at school one morning he can't figure out why. Then he realizes it's because his school is competing in a statewide invention contest. Because Griffin's dad is an inventor, everyone figures Griffin is going to ace the contest. The problem: Griffin doesn't know the first thing about inventing.
His worst nemesis, Darren Vader, however, goads him into the contest, and they even make a bet that whoever wins will write a script that the other will be forced to read to the entire school. Now Griffin really doesn't want to lose.
When Melissa Dukakis, one of Griffin's best friends and tech wizard, signs up for the contest for herself, Griffin is not pleased; he was expecting Melissa to help him. She's about to agree, but then their friend Pitch comes in, fresh off not being allowed on the wrestling team because she's a girl, and levels an outrageous accusation at Griffin that he's being discriminatory. Melissa doesn't know what to do, but now their group has split into two; the boys and the girls.
Savannah is having trouble with Luthor constantly chasing after a delivery truck, so Melissa invents a machine that emits a high-pitched noise whenever Luthor starts chasing that keeps him off the road. Savannah is overjoyed, but that doesn't last too long when Melissa's invention disappears.
Not that Griffin's invention is going along too well, either. He's trying to invent a silent vacuum cleaner, but for some reason it's knocks out the electricity everywhere when he turns it on. Finally the team gets back together to help find Melissa's stolen invention. Melissa is shattered and refuses to talk to anyone anymore.
The gang thinks Vader might have stolen the Hover Handler, as Melissa calls it, but he's so confident about his own professionally made invention that they realize he's not even worried that anyone could pose a threat to him. Their next target is their new neighbor, Mr. Hartman; or Heartless, as Griffin has dubbed him. When he moves in he no longer allows the kids to take a shortcut across his property to school, making an extra twenty minutes of work for them. He's very suspicious of the government, and even worries that the Hover Handler was actually a means of spying on his house.
When they hear the noise of the Hover Handler emitting from Mr. Hartman's house, they spy on it and eventually are forced to raid it in an attempt to take it back. But when they realize the noise is really coming from a piece of mechanical equipment, they wonder whether Mr. Hartman was right about the government all along: Did Uncle Sam really steal Melissa's Hover Handler?
Review
Unleashed was good, combining typical Korman action and excitement with awesome plot twists and outrageous characters. The book also showed that the series may be growing a little old and not be as fresh as it once was.
What made the Swindle Series continually good, despite the fact that this is the seventh book, published seven years after the first one, is that Korman has managed to construct an entirely new and exciting plot in every book. I was a little wary about the last book, Jackpot, but Korman managed to keep it new and inject it with an entirely different storyline. The overall theme is not new here, with the plot of the team looking for a stolen item basically taken from Framed, to which the plot bears many similarities.
Griffin becoming an inventor, and his invention succeeding in a way he doesn't want it to by sucking all the power for itself is hilarious. Many new characters in this book were also very funny, including Mr. Hartman, who has the floor plan of every government building a 100-mile radius, and the U.S. government itself.
The characters are becoming more important in the series, in the past being mostly a backdrop to the plot, and now being interesting and real enough to make an interesting story just on their own. It seems to me that Korman probably didn't have too much trouble writing this one, since he's gotten to know the team so well, but there are still tons of jokes and other cool things sprinkled throughout the pages. While the arc of the story may have been somewhat recycled, the characters and the actual details of the plot make up for it easily, Korman clearly giving 100% into making the whole book engaging and funny. We are still seeing new sides and actions from the characters all the time, instead of just recycling the same things, which continues to make the books interesting.
One weird thing is that Victor Phoenix, a big new character in the last book, is simply missing. Korman told me that he didn't suspect anyone would miss Victor, and that the story isn't really going in a continuous order. I've seen other people raising questions about Victor's absence, however, and it is kind of shocking to see him simply gone, considering the fact that while Griffin is still the leader, Victor was sitting at lunch with the team through all of the previous book, and it only reasons that he still would.
 I think the storyline works a lot better without Victor (after all, who wants more than one book of a guy whose main characteristic is that he was bullied?), but it would've been helpful to give some explanation like that he was on vacation or moved away or something like that. Victor's disappearing act isn't really that big of an idea, though, and it doesn't really impact the strength of the book apart from being a little disappointing.
Overall, I love Unleashed, and any middle grade kid will like it. All the books in this series are pretty much equally good, with the possible exception of Showoff, and though some say that the series is getting old, Korman continually proves them wrong. He has said there is at least one more book, which I'll be looking forward to. This is the first one that slightly lacked originality, but it's still a great addition and it'll be interesting to see other adventures Korman has up his sleeve for the team led by The Man with The Plan.