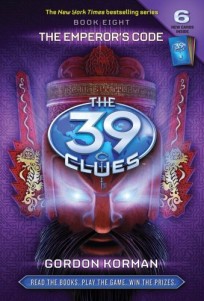 Note: This article was originally written almost four years ago.
Yesterday, March 6th, 2010, was a big day for the readers here on The Readers and Writers Paradise: Book 8 of The 39 Clues, The Emperor's Code was released! I was especially excited for this book, because it was written by Gordon Korman, who is, as most of you probably know by now, my favorite author.
And I have to say this was by far my favorite book in the series as of right now. In a live webcast back on December 2nd, 2008 (seems like it was just yesterday), Gordon said that with the series being multi-author, with everyone's creativity piling up on top of each other, by the eighth or ninth book, it would be awesome.
Certainly, his predication came true. As for writing style, this book was clearly written in a different writing style than his other books (I know; I've read all of them). It wasn't just Korman writing the book; the writing style of Rick all the way back from September 2008 is still showing in this piece.
I really love the writing style—I think it's the perfect way to write The 39 Clues series. I don't really like book three or seven, because of the writing style of Peter Lerangis, but really everyone else has followed suite from Rick and Gordon back in the first and second books.
The plot? Well, at the end of the seventh book, Amy and Dan discover the secret of their family branch: Madrigal. As you can expect, much of the book is centered around that topic.
First, Amy, Dan, and Nellie travel to China in search of the old Janus clue (yep, Jonah Wizard makes his long awaited rebirth into the series). In the Forbidden City, Dan finds a sheet with an equation of the different branch symbols in bottles added together equals the Cahill symbol, along with a Chinese message that later proved important.
Unfortunately, Amy starts voicing her thoughts that maybe their parents deserved to die, and Dan storms off. Then, he is captured by the Kabra children, Ian and Natalie. They dump him in a pile of trash, where he is found by Jonah.
Jonah claims he's making phone calls to Amy and Nellie and trying to track them down. However, when Amy and Nellie ask him if Dan is with him, he lies and says he isn't, and was never making calls. When Dan meets Jonah's mom, Cora Wizard (the leader of the Janus branch), it becomes apparent that the Wizard family is just trying to use him. They even claim Dan is from the Janus branch! Unfortunately, that prompts Dan to respond with the following:
"Janus? I'm no Janus! I know exactly what branch I am!"

"I'm a Madrigal!"
The well-kept secret of who the Madrigals are is finally out, and people will be hunting Amy and Dan down even more.
Dan flees and leaves a message for Amy and Nellie. He did not give a location, as he would have to keep moving. Both decide the next clue is on Mount Everest, and meet each other in the hanger of a plane specially designed to go to the top of Everest. At first, the pilot refuses to take him, but Nellie puts her "boss" on the phone to talk to the pilot, who suddenly agrees to take them.
Nellie later claims it's her uncle; obviously not true. They also see Nellie pick a lock with masterful skill, and we get to see part of a phone conversation between her and her boss. In her thoughts, she also reveals she has a secret objective. Amy and Dan are once again doubting her more and more.
When they get to the top of Everest, they see that Eisenhower Holt and Ian are already near the top. Amy grabs the vial containing the clue at the peak, but it slips from her hand, as she tries to grab it, she realizes that Ian is about to fall two miles into death. Instead of saving the clue, she saves Ian. Luckily, it was hidden in the secret Chinese message:
"That which you seek, you hold in your hand,
Fixed forever in birth,
Where the Earth meets the sky."
Because the paper they are holding is made out of silk, the first line means it's silk. Fixed forever in birth means it's frozen, which means its raw silkworm secretion, and where the earth meets the sky means it's hidden on Mount Everest.
Dan also finds an impression of Anne Bonny, a famous woman pirate in the Caribbean. This tells them that's where the next clue is located.
The secret code in this book is made from the coded letters:
"Madrigals are behind everything. They lay out the path the others will walk. The end is coming."
What I make from that is the Madrigal's plant the clues and leads for others to find, and obviously that the contest is coming to an end. There are numerous examples of the Madrigal's making leads, such as Nellie "accidentally" placing them into secrets (she's obviously not from one of the four branches, the way they talk about her), and at the beginning of book eight, the Man In Black making sure Amy and Dan saw a certain movie which showed the Janus crest at their next destination. They certainly are the most powerful.
To be honest, The Emperor's Code was sort of like a filler; not as much as books two, three and four, because we at least got some info from this book, and not quite as much as book six, but more like book five. Certainly this book sets the stage for the outbreak of the series that we know is happening in books nine and ten. I hope to see you on the hunt.
Thank you for reading this review and if you'd like to purchase the book you can do so through this link. You can also like my Facebook Page or enter your email below to get more book reviews.
Enter your email address: