Swindle Series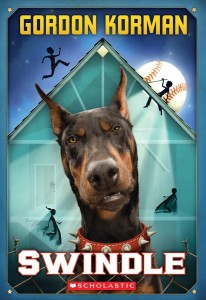 In 2008, something great was born. One of the greatest kids books in recent times, attracting millions of loyal readers. In 2008, Swindle was born.
Swindle was a book written by Gordon Korman about a kid named Griffin Bing and his group of friends. Griffin and his best friend, Ben Slovak, find an old Babe Ruth baseball card. They take it to a collector to see if it's worth anything, but the guy completely rips them off and buys it for a couple hundred bucks. Later, they learn the card is worth almost a million dollars.
Swindle is about kids taking matters into their own hands. Griffin is The Man with the Plan, and assembles a team to steal the card back. It's a very exciting and awesome book, the characters are believable and work well together. It's so popular, you can ask pretty much anyone young adult age and they'll have read it. Note: Swindle was also turned into a movie by Nickelodeon. However, it was only "loosely based" on the book and was pretty much horrible.
After the success of Swindle, Korman decided to continue the series. Zoobreak was the next book, in which Griffin and his friends are forced to steal back Savannah's monkey from an unscrupulous zoo keeper. When they see how poorly the animals are treated, however, they realize that they have no choice but to let all of the animals loose.
Next was Framed, an exciting book in which Griffin is assumed to have committed a crime. In actuality, however, he did not. But he is placed under house arrest and he and his friends are frantically searching for who could've been the real culprit.
After that was Showoff. Savannah's dog Luthor attacked someone, and Savannah is forced to give him up. Griffin and Ben know how much Luthor means to Savannah, and so they decide to turn the vicious guard dog into a show dog so he can be Savannah's again.
Hideout is another action-packed book where the collector ("Swindle") from the first book is back. He wants Luthor, but there's no way Savannah is about to hand him over. This takes place during the summer, so they have to hide Luthor at a series of summer camps and prevent him from being taken by Swindle.
Usually by the time a series gets to the sixth book, it's pretty long in the tooth. Korman recognized that and this book is very well done, incorporating a good mix of character development and action. I wasn't expecting for Jackpot to be good, but it was.
Unleashed is the first book in the series that recycled some old themes from prior books. Nevertheless, Korman injects humor and great characters throughout, and it's an awesome adventure that will keep you glued as Griffin and his friends try to outdo each other (and Darren Vader) in an invention competition, Luthor almost gets lost again, and their opponent this time may be none other than the US government.
I'd recommend starting off with Swindle and continuing on through the series if you like that. These books are a world of fun and excitement.