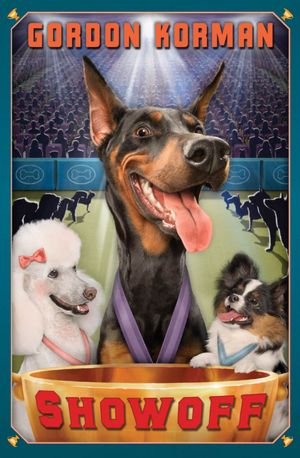 Series Background
Regular readers of this blog will know that Gordon Korman is one of my absolute favorite kids authors. The first book I read by him was Swindle, a book about Griffin Bing and his gang of friends to steal back a valuable 1920 Babe Ruth baseball card that is rightfully theirs; the owner of a local baseball shop, S. Wendell Palomino (otherwise known as Swindle) buys the card from Griffin after he finds it in an old abandoned house for only $120. I highly recommend this book and it was recently featured in my Six Books for Tweens that are Breathtakingly Awesome list. Other people massively enjoy it, too, selling literally millions of copies.
I also mentioned in that list that there were three sequels, although I didn't mention anything about them. Well, Showoff by Gordon Korman is the latest book in the Swindle Series. Griffin and his friends are back in a caper that will take Savannah Drysdale's (animal expert) dog Luthor from the pound to the Global Kennel Society Dog Competition.
Note: Scholastic made the above video briefly detailing the story.
Lest you worry you need to read them in order – while I'd recommend it, these books can stand well by themselves, without needing to have read the proceeding events in the series (i.e. the plots aren't tied together).
Plot
Okay, now to the actual plot and book. Griffin and his friend Ben Slovak are on a six-week sleepover during the summer while Griffin's dad, an inventor, tours Europe in order to try to sell his stock. Griffin and Ben are best friends, with Griffin being the "Man with the Plan" and Ben being his sidekick.
As school lets out, they meet up with Savannah to attend a dog show which showcases the number one dog in the world at the time, Electra. Savannah brought her dog Luthor along with her to see the show. However, it comes to pass that a tragedy happens. For some reason, Luthor goes and attacks Electra. Luthor is a big doberman who used to be a guard dog, but Electra is just a tiny dog, and is injured badly. Electra was going for an unprecedented third straight victory at the Global Kennel Society Dog Competition, a victory that would've netted her owners millions and millions of dollars. Now, they will be collecting their money the legal way: In a suit against Savannah and her family.
The lawsuit is over $7,000,000, and even though Luthor has never done anything like this before (as aforementioned, he used to be a guard dog, but with Savannah he's fun-loving and absolutely fine), the Drysdale's deduce that they have to take Luthor to the pound, as if they don't, it might look like they aren't doing as much as possible to stop it from occurring again in the future.
Luthor was Savannah's most beloved pet, and it throws the entire household into a frenzy. Another of Savannah's pets, Cleopatra (a monkey), was best friends with Luthor, and even tries to break into Griffin's house in the hope that Luthor might be there. But Savannah is even more distraught. She is so upset that her parents take her on a vacation for the summer to get her mind off her beloved (and likely to be soon dead) dog.
Griffin and Ben are at first not too upset about it. They didn't like Luthor anyways. But when Griffin hears Luthor's mournful wails, he knows they have to do something. And they can't let Savannah's family go bankrupt! But what can they do? It's no problem for the Man with the Plan.
There's no way Griffin's dad will let them adopt the huge (and menacing canine), but maybe they can somehow get Luthor to win the Global Kennel Club. If they can, then not only can Luthor get back to Savannah, but the money from that can pay off the lawsuit. But can Griffin and Ben train a dog that wrecks an entire garage in less than a day? And without Savannah, Luthor is in an especially bad mood. Will the truth about why Luthor attacked Savannah coax an old dog-lover back into the show to save the day?
Review
The book is a pretty easy read at around 240 pages with large font. It's meant for kids around 9-14, and still manages to have great writing and using good terms while also making it very comprehensible. While an action/adventure book, the danger contained is not quite as much as the other books in the series, with the danger the death of a dog and financial ruin. Although someone is trying to harm them in order to prevent Luthor from winning, it is underplayed, and is never too serious a problem. The dangers contained are more realistic (in the other books Griffin and his friends are constantly threatened with jail, etc.), while still being fast-paced and exciting (although somewhat more relaxed than in previous books in the series).
Overall, I give it a 3/5 stars. I would give it four stars because of the good writing style, interesting story, good storyline/premise, but I take off a point for the somewhat less suspense and the somewhat predictability of the book (there were some unexpected things that happened, but nothing too earth-shattering as in the original book Swindle).
Nothing can really compare to the original Swindle, of course, which was perhaps the best action/adventure book the author has ever written. But this is a good addition to the series and will still be well-received among kid readers of the genre. Click here to buy the book, Showoff by Gordon Korman! You can also enter your email below to get more book reviews. And you can like my Facebook page if you want.