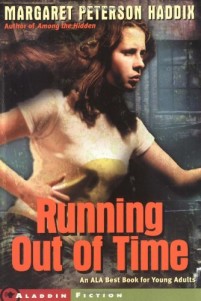 Running Out of Time by Margaret Peterson Haddix has been one of my favorite books since I first read it in sixth grade. It explores the very interesting idea of monsters trying to create a stronger gene pool without making it scary or anything.
This book teaches great lessons about ethics and the value of human life. Although the main character is a girl, there is no problem reading it as a boy.
Summary
Jessie believes herself to be a normal thirteen year-old girl living in Indiana in the 1840s. Jessie has to deal with all of the vicissitudes of living in the mid-19th century, and this includes disease.
Unfortunately, however, there is a huge outbreak of diphtheria. Although Jessie's mother is a midwife and attempts to cure people, she has little success. People are dying left and right.
Jessie's mother can't stand to see people suffering like this anymore, and eventually she decides to take desperate measures: She reveals to Jessie that it is not actually the 1840s, but the year 1996.
Jessie can barely believe it. Her mother tells her that Clifton is a tourist attraction so that people can watch and learn about life in the 19th century. Jessie's mother tells her to go to a man named Isaac Neeley who will give her a cure for diphtheria.
Jessie manages to escape, but Neeley may not be the nice man that he seems. In fact, he plans to kill her!
Luckily Jessie realizes this, but will she be able to get away? Is the real purpose of the village a tourist attraction, or is it actually to create a stronger gene pool? Most importantly, will Jessie be able to save them?
Review
Running Out of Time is a great book and, even though I read it for school, it still remains with me to this day. It is told in third person limited, so we get to follow the adventure with Jessie.
It is very suspenseful and also very frightening. Learning that the current year is actually 150 years ahead of what you thought!? It is a crazy idea, but Haddix deals with it in a way that makes it intriguing instead of scary.
It is unbelievable that this is the first book Haddix wrote. She is a great writer and I have enjoyed reading some of her other works.
One of her biggest skills in this book is bringing a moral point home; the value of human life. Neeley is revealed as the monster he really is. Although he is using science to justify his infliction of human suffering, nothing can justify that.
This is a great book for kids around fifth to eighth grade. It will keep them engaged and definitely keep them thinking.
Thanks so much for reading this review. To get more reviews like these to let you know what books you should be buying your kids, just enter your email below.