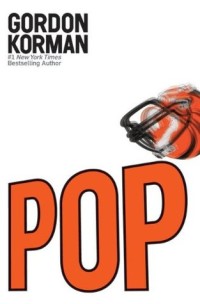 We've all heard of the stories of people who have Alzheimer's, or maybe we even know someone who has it. We've also all heard the talk about how dangerous the NFL is becoming, how past players are now suffering from Alzheimer's.
In Pop, Gordon Korman explores this theme of football players getting Alzheimer's through the eyes of a boy named Marcus, a kid who just moved into a new town. Before long he meets a man named Charlie (aka the "King of Pop"), an ex-NFL linebacker who has Alzheimer's.
Charlie gets worse and worse since Marcus knows him, and before long he loses all reality whatsoever. He imagines things as though they were decades ago, and has no knowledge of the present world. His condition is very sad, and this book does not have a happy ending.
Summary
When Marcus moves into a new town with his divorced mother, things don't go quite as well as he had hoped. Although Marcus was the starting quarterback at his last high school, the school in his new town has already won the state championship two years in a row and has no need for a new player.
Marcus ends up practicing on his own, and it is not long before he runs into an unknown middle-aged man. He hits extremely hard, and at first Marcus doesn't like it, but as time goes on he learns to enjoy the contact, the "pop."
Things are strange about this man, however. Whenever Marcus tries to schedule a meeting with him, he waits for hours and the man doesn't show up. And other times the man accuses him of being late even though it wasn't the agreed upon time.
Meanwhile, Marcus is having a competition with Troy, the starting quarterback of the football team. He even has a brief romance with Alyssa, who is usually Troy's boyfriend.
After some digging, Marcus learns that the friend he's been playing with is Charlie Popovich, a former NFL linebacker who is the celebrity of the town! Marcus also discovers that Charlie is Troy's dad.
Other strange things start happening. Charlie begins to call Marcus "Mac," apparently an old friend of his, and acts as though he's still a kid. Marcus knows that something isn't right, and he discovers that Charlie has Alzheimer's, something his family is trying very hard to keep a secret.
Of course, there can't be a Korman book without an exciting story. There is a college hall of fame induction for Charlie, but he doesn't even know what's going on. His family doesn't want him to go, but Marcus has a feeling that he'll have a great memory of the times that happened decades ago.
Will Charlie get to experience the joy of his old college days again? Will his old friend Mac come out again? Most importantly, will Charlie survive?
Review
Korman normally says he writes books that kids would want to read, period. This book is clearly written as education about the rough condition of Alzheimer's. It is very sad, but also very true, and it makes you feel great compassion for Charlie.
I have a family member who currently has Alzheimer's and it's very hard for all of us. I do feel I understand it better having read this book, but this is not at all meant to a factual presentation of the disease; for that you'll have to look elsewhere. This story merely follows its impact on one man.
I almost want to cry thinking about the book now. Yet there are happy times in it, as well, and even the hardest moments are mixed with happiness. This is not a depressing book, but more of a reflective one. Still, I'd talk to your child about Alzheimer's and how they feel about it if you're planning to have them read the book.
Would I recommend it? Yes, it's a very powerful book. Probably Korman's most powerful in several years.
Thank you for reading this review and if you'd like to purchase the book you can do so through this link. You can also like my Facebook Page or enter your email below to get more book reviews.
Enter your email address: