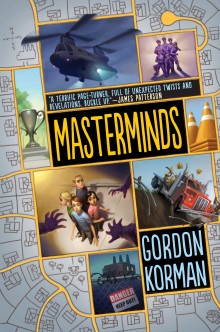 I've been super excited for the release of Gordon Korman's new book Masterminds. Actually, it's the first book in a trilogy, and it's one of Korman's action series. Like almost everything he writes, it's very well done and captures the reader all the way through.
Summary
The book starts innocuously enough in Serenity, a very small town in New Mexico where everything is perfect. There's no crime in Serenity, no problems. Everyone works at the local factory, which is supposed to manufacture traffic-cones. All the kids go to a nice school, where they take classes like Contentment, and most never leave the town.
Korman switches around narrators in this book, a tactic he's used in both No More Dead Dogs and Schooled to great success. It allows us to get to know all the main characters and also to follow the story from multiple angles because Korman always likes to throw in crazy events that snowball together into a big explosion…often a literal one.
We start out with Eli Frieden, son of the mayor of Serenity and best friends with Randy. Randy and he are always getting into all kinds of trouble, playing all sorts of fun and crazy stunts. Something weird happens, though, when the two venture outside of city limits and Eli has a health collapse.
This is where we meet the Purple People Eaters, or security guys who run around the town who nobody knows. The big question is: Why does a town as safe as Serenity need that kind of thing? The kids are so sheltered they don't know what a murder or crime even is.
Soon after they exit the town limits, however, Randy gets sent out of town. Eli knows something is fishy, and he enlists the help of a nice girl named Tori Pritel, and soon join forces with the rebellious Mailk (who always says he's going to leave Serenity as soon as he can), Hector (Malik's best friend who is really timid), and eventually Tori's best friend Amber, a girl who rigidly defends the town of Serenity.
By more weird events happening, it isn't long before the kids realize that something very strange is going on in the town. And that something could mean great danger for them.
Review
This is an awesome book. The science-fiction plot twist Korman pulls is excellent, and gets you really engrossed in the story. The kids have to work almost entirely on their own, going completely against the entire population of the rest of the town, and that's something worth reading.
The characters are all very identifiable, although none of them is personally super deep or inspiring like some characters in other Korman books. What draws you in about them is that they think for themselves and they're courageous, having to go totally against everything they've ever been taught and believed with only themselves to trust, so in that way they are inspiring.
This book reminds me a lot of the excellent Running Out of Time by Margaret Peterson Haddix in terms of them both having a fake town. The Haddix book had crazy plot twists till the very end but was also a more morally straight forward. Masterminds pushes the envelope of ambiguous morality in a lot of different directions, and I expect to see it tackle a lot of hard questions and events that would naturally come from this story.
I respect that Korman is writing some more science fiction type stories just to get into new stuff. I totally understand that as a writer, and Korman's been a published author more than twice as long as I've been on the planet! So it's good that he's experimenting with new stuff, but his themes of kids doing great stuff and taking matters into their own hands is what sticks throughout his books and makes them so worth reading.
With all of that said, I cannot recommend this book right now for one very important reason: The series won't be completed for another two years! It's crazy, I know. This book was 322 pages, unlike other Korman trilogies where a single book would be little more than a third of that. Nevertheless, I wish they would come out with books more quickly, and Korman has said he's writing them as quickly as he can but it's the publisher's decision. Of course I still wanted to read the book now, but it's kind of ridiculous to expect kids to read a book and then a whole year for book two and then another year for the conclusion. Nevertheless, I congratulate Korman on another very engrossing book and I'll be waiting for February, 2016.