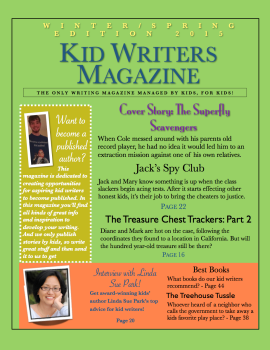 Hi everyone! Thanks for you all being great and helping me through with the launch of Kid Writers Magazine, the only writing magazine in the world managed by kids, for kids. As you may know, it's a place where kids can learn about writing and get published.
I'm proud to announce that the second edition of the magazine is out today! This edition is jam-packed with even more awesome content that first one. We've had tons of submissions from kid writers throughout the country, and I've worked with many of them to get them published in this edition.
We've got our usual seven stories, the cover story being The Superfly Scavengers, a tale written by me where a kid finds a secret message on an old record player and tries to track a treasure down only to have to steal it by from a dishonest relative. Sounds pretty crazy, huh? 
Some other great ones are The Treehouse Tussle by Nancy Burton, where a kid has new neighbors who try to get the property line redrawn to remove his treehouse, and the second part of The Treasure Chest Trackers by Lisa Fitzgerald, continuing from the first edition where two kids have found a hundred year-old treasure and now have to travel across the country to get it.
Perhaps my favorite story in this edition is Jack and Mary's Spy Club: Mission 2: The Crooked Classroom Cheaters. In this mission Jack and Mary's class is taking state tests, but when some students seem to be cheating and inflating their scores at the expense of other kids, it's up to Jack and Mary to stop them. We've also got a mini-book coming out for the JMSC where they track down a writer who apparently doesn't exist, so stayed tuned for that.
We're also lucky enough to have an interview with Linda Sue Park, author of some books in The 39 Clues, the Newbery Medal winning A Single Shard, and A Long Walk to Water. Ms. Park lives just minutes from my house and she kindly agreed to an interview at the local Rochester Book Festival. You can hear more of those interviews here.
To make this magazine even better, I'm releasing a mini-book in conjunction with it as a free gift to the first thirty people who order. It's a hilarious tale called The Wrecking Ball Employee where a kid attempts to get a job but is more successful in things like getting eaten by a girl who thinks he's a hot dog and being accused of poisoning by a government agent. After the first thirty buyers it'll be coming out as a separate book you can purchase, but you can get it as a bonus now (you might want to hurry because I'll have some more publicity for this later in the week but I wanted to make sure my loyal blog readers got the first go).
I've got tons more exciting projects in the works as we speak, so be ready. Head on over to kidwriters.org and get the magazine and let me know what you think! You can also check out a preview of the magazine here. We're always accepting new submissions from kids so adults make sure they all know about it and kids get busy!