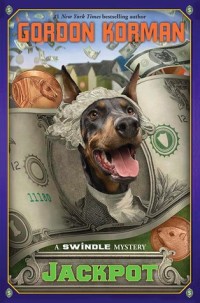 Jackpot by Gordon Korman is the sixth and latest installment in the exciting Swindle Series. This series has sold millions of copies and has been adored by kids all over the world. They are standalone books, so you can read one of them and not miss anything. They have the same characters, however, and so I'd recommend starting at the beginning to learn some of the background.
I honestly wasn't super excited to read Jackpot. After all, it's the sixth book about the same kids doing basically the same thing. Korman, however, was already a step ahead of me, and wrote this book in a completely different way from the rest of the series. While the other books were primarily based on action, this book was driven by characters.
Summary
The book starts off with Griffin Bing and his friends learning about a lottery ticket worth $30 million. The catch: It's lost, and is about to expire. Griffin is The Man with the Plan of the group, and everyone else has their own special talents that make them great friends and an effective team.
Griffin decides to use the lottery ticket to get back at Darren Vader, a school bully who is always trying to get in on their plans, and the rest of the team agrees. They make up a fake newspaper article about the ticket being somewhere in Cedarville, and, as expected, the money-grubbing Vader goes after the money and starts searching for it all around town, diving through dumpsters to get to it.
Unfortunately, a lot of other people take Vader's idea and before long there a dozen people digging through the city in hopes of becoming a millionaire. The police put a stop to it, and also figure out that it was Griffin and his friends who played the trick. They get community service hours for playing the trick on Vader, and everyone starts to look at Griffin Bing as though he is a bully. After the event, the principle calls a school conference on bullying and Vader stands up and accuses Griffin of bullying him.
Anyone who knows the situation will be aware that Darren is the real bully. For people unfamiliar with the situation, however, it's easy to take Griffin for a bully. That's what happens to Victor Phoenix, a new kid. He breaks into Griffin's group, but treats Griffin terribly. In fact, he's starting to take Griffin's place!
Griffin can't figure out why, The Man with the Plan skips school and goes to Victor's old school to do research. At the school, he learns that Victor was bullied terribly. He also learns that Victor changed his last name. Griffin realizes that Victor believed Darren when he called Griffin a bully and that's why he's treating him poorly. Griffin can see that Victor is deceiving all of his friends to try and join the group, but when Griffin tells them, they have nothing but nice things to say about Victor. Griffin stops hanging out with his friends, and instead starts sitting alone at lunch.
Vader is still after the money, however, and he recruits Griffin to try and help him find it. Griffin never thought he'd team up with the likes of Darren Vader, but without his friends he doesn't have much else to do. They go to the lottery store where the ticket was sold and check the surveillance camera. They start trying to track down the people who may have the ticket, but the owner doesn't know any of their names or addressees, so they don't have much to go on.
By this time Griffin has also taken in Savannah's dog Luthor. Savannah has taken in Victor's cat Penelope, and they do not get along. Savannah blames Luthor and is happy to give him away for a little while. Griffin feels a companionship with Luthor; both of them have been driven away from their friends by Victor.
Vader also recruits Victor and "his" team to try and find the lottery ticket. With Melissa's computer skills, they are able to figure out where the prospects live, and find them. In the end, Griffin, Darren, and Victor and the team all end up at the last possible person who could have the ticket at the same time, right before the deadline of the ticket. Will they find the ticket? Will they cash it in on time? Will Griffin ever get his friends back?
What I Thought
The beginning of Jackpot is written a little weirdly, in that it does a lot of telling and relies on some pretty unlikely things to happen. After a while, though, the story settles down and becomes very good.
This seems to be Korman's first foray into a character-based story. Instead of humor or action to keep us turning the pages, it's our identification with Griffin that does it. Griffin feels misunderstood and mistreated by his friends, and Korman does a good job of making you genuinely feel for him. The reader wants to see Griffin feeling better and united with his friends again.
Of course, there is action too with everyone trying to find and cash in the lottery ticket before it's too late. After all, it's a Gordon Korman book! The action is almost secondary, however, but is also well done and a big part of the story.
It's good for Korman to add the character development at this point of the story, because up to this point it was just the plot that was driving it and it was getting a little boring because I didn't care about the characters very much. I still am not super attached with them after six books, but it's more than before. This book will keep the series alive.
This is a new type of writing for Korman, and he definitely makes some mistakes. Parts of the book are all over the place. Is it still a book kids will love? Yes, it is. I've never heard of a kid not liking a book by Gordon Korman, and this book is going to be no exception.
Thank you for reading this review and if you'd like to purchase the book you can do so through this link. You can also like my Facebook page or subscribe through email below to hear about more cool books.