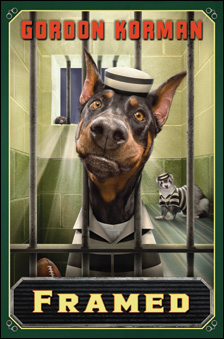 Framed is the third edition in the popular Swindle series written by best-selling author Gordon Korman, one of my personal favorite authors. This series features Griffin Bing (the main character) and their gang of friends. In Swindle, the inaugural book, Griffin and his best friend Ben Slovak discover a 1920 Babe Ruth baseball card while sleeping in abandoned old house that's about to be knocked down. They take it to a collector to see if maybe it will solve Griffin's financial problems, but the appraiser (S. Wendell Palomino, nicknaked Swindle) tells them that it's just a cheap knockoff and buys it for $120. But actually, it's worth $974,000. The only way to get the card is to steal it back.
After Zoobreak (which was an excellent continuation of the spirit of the first book), Framed is a another great entry that keeps the series rolling. In this book, Griffin and his friends go to a middle school with a principal (Dr. Egan; nicknamed Dr. Evil) who hates them because of their past. Griffin wants to get back at him, but after being threatened by the police at the end of Zoobreak, none of the team is eager to try another "plan."
Note: These books can be read in any order. While I always recommend starting at the beginning, it is by no means necessary, as the plots are independent to each book.
Below is a video trailer for Framed made by Scholastic.
Summary
A 1968 Jets super bowl ring mysteriously disappears from the school. And Griffin's retainer (which he had previously lost) is found right in the case where the ring used to be! Griffin didn't do it, but to Dr. Egan and the police the evidence is pretty compelling. Judge Koretsky, who is assigned to his case, also does not buy his story and banishes him to the John F. Kennedy Alternative Education Center (JFK), infamously known as "Jail for Kids."
Griffin and his friends pick several suspects: Darren Vader (a money lover and a member of the Swindle and Zoobreak teams), Cecilia White (a newspaper columnist who is trying to call attention to Griffin's plots), Dr. Egan, and a kid by the name of Tony Bartholomew who is related to Art Blankenship (the former owner of the ring) and wants to grab it for himself. But his sting operation doesn't go as planned, and Judge Koretsky confines him to house arrest.
Griffin is determined to unmask the identity of the scoundrel who's framing him. Griffin's parents are distraught as they know he lost his retainer earlier and wasn't guilty, but begin to lose their patience when Griffin's sting operations start to land him in more trouble. Griffin's spirits sink lower as he is kept away from his friends and things are showing no sign of getting better. To smoke out the thief and drop the fallacious charges levied against him it will take a truly spectacular solution.
Review
This book is 234 pages with large font, meant for kids in the age group of 9-14. The writing is very good and the book is fast-paced and exciting as is typical with Korman books.
His books frequently put his characters in interesting situations and in no way fall into any kind of the preachiness that has plagued kids books for so long. Instead Korman prefers smart characters who are never afraid to take action to get whatever it is they want. A recurrent theme of the Swindle series is kids fighting against unfairness by taking matters into their own hands, and this book executes that theme in excellent fashion. It is very fast-paced and exciting, with constant plans and movement from the characters. The ending is a little bit unconnected to the rest of the book, but it is one that you definitely will not be able to guess.
This book captures the excitement of the original book and is highly recommended. Click here to buy the book Framed by Gordon Korman.