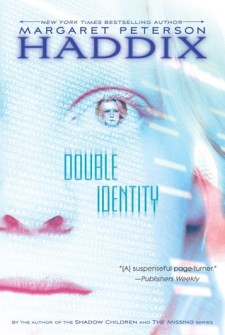 Double Identity is a science fiction book written by Margaret Peterson Haddix that has the twists and turns typical in a Haddix story. The book has some good things and some bad things, but is anything is for sure it's that you're not going to get bored reading anything by this author.
Summary
The book starts out with Bethany, the main character, on a drive to visit an aunt she knows nothing about. Her mom has been crying, something is wrong, and she is shocked when her usually loving parents tell her that they are leaving her with this aunt.
Her aunt Myrlie is nice enough, but they don't know each other at all and even Myrlie doesn't know why she has been asked to take Bethany. Myrlie is a kindergarten teacher, but takes time off to help Bethany get acquainted with her new life.
Bethany's dad calls once a day, but his number can't be tracked and Bethany has no idea what's going on. She starts hearing the name of a girl named Elizabeth, and so many people start staring at her and asking if she really is Elizabeth that she no longer wants to go out.
Bethany is desperate to discover the identity of Elizabeth, and what is really going on in her family. How come her parents who have cared for her so much have simply deserted her? What is her connection to this girl she has never heard of? Why is there a strange man around who seems to be after her?
Review
This is a good book by Haddix. The twist of Elizabeth's identity as well as Bethany's was a big surprise and very interesting.On the other hand, there are some flaws about the book.
The lack of action is a serious problem. The whole of the book is Bethany finding out her identity and coming to grips with it, but she doesn't actually do a single thing throughout the entire book. If it was me writing the book, I would've probably sent her halfway across the world and had her almost die a bunch of times, but I guess everyone has their own style.
Part of the reason why there's so little action is that the book kind of drags out. It takes place over a time span of only a few days, which go pretty slowly. This is quite unlike Running Out of Time, Haddix's most popular book, where the character risked her life a couple times. Speeding up this book and giving it more action would've been nice. 
The characters are another thing that are lacking a little. Double Identity spends a long time developing the characters, but I still don't really identify with them too much. Bethany tells the story first person, so we know her very well, but although I can connect with her on a human level, I didn't really get too personally with her. To me the most interesting characters were Bethany's parents and the villain, for going through what they did and the choices they made, but those characters aren't featured very much.
I also think this book might be a little frightening (it certainly would've been to me when I was younger). Kids will always wonder about stuff in science fiction books like this, but it would've been nice if there had been a disclaimer somewhere in the book that said this kind of thing can't actually happen.
The premise of this book is good, and what it's appeal is really more that of a mystery than a science fiction as we follow Bethany along and try to find out what's going on with her life. Double Identity is engrossing, thought-provoking, and mostly a good read, although near the end the lack of action along with the bantering and self-talk of the characters got to be super annoying.
Overall, I think it's worth it to read this book, but I wouldn't recommend it. There are a lot better books, including by this author.