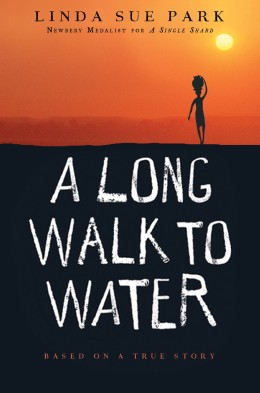 Having recently interviewed Linda Sue Park for the latest edition of Kid Writers Magazine, I was excited to read her bestselling book A Long Walk to Water. The book details the story of a boy named Salva who leaves Sudan during a war and eventually finds his way to Kenya and the United States. Salva lives in my town, and while I don't know him personally, I've run into other people who are also "lost boys."
Summary
We follow Salva's journey from Sudan, which starts when the fighting breaks out when he's in school. Salva, an eleven year-old boy, is forced to abandon his family and run off into the bushes, where he joins a group headed for Ethiopia.
On the way he befriends a boy of similar age, who winds up getting eaten by a lion. He also runs into his uncle, who has a gun and becomes the leader of their little group, and helps take care of Salva. Unfortunately, his uncle is also killed.
After a long while Salva makes it into Ethiopia, where he lives for several years. When there is a change in government the military chases them out of the country into a river filled with crocodiles, shooting at them with guns all the way. Salva is very lucky to make it out alive, and he leads a large group of kids to Kenya.
He stays in Kenya for several years, and even starts learning English. The Kenyan camps have some shortcomings like not enough food, so he is very excited when he hears that a small amount of people will be chosen to come and move to the United States. He is one of them, and moves to my home town, Rochester, NY.
Moving to America is a whole new world for him, but he soon gets used to it. He attends college to get a business degree, and six years after being in the US he manages to track down his father, who is in a hospital. He wasn't sure whether his family was alive or not, but he reunites with his father, and learns that his mother and one of his three brothers are still alive.
Salva decides to help people throughout southern Sudan get water, and is instrumental in building a number of wells there. Throughout the book we follow a girl at the beginning of each chapter who has to walk half the day just to get water that is dirty and sees the new well being made. At the end she can now just get water easily and with the saved time can attend school.
Review
I was surprised at how short this book is, but it does a good job of just sticking to the facts and not trying to add any embellishment or anything. It's a nonfiction book really, and it reads very well just following the adventures of Salva. More details about the refugee camps and about exactly what Salva does after he comes to the United States would've been nice and I think really added to the book.
I like A Long Walk to Water and think it's well written, although I also think it's aimed at too young an audience. It's for middle grade readers/young teenagers, and I don't really see the point of having them read about this. It's a tale about suffering and how this guy persevered throughout it all. Now I find it inspiring what Salva did, but if I was younger it probably would've just confused me.
So for middle grade readers I don't recommend it, because I don't think kids should really be reading books of this type. To get the actual positive message of the book you have to have a more mature view of the world, which is why I think this would be better suited to older teenagers and up.