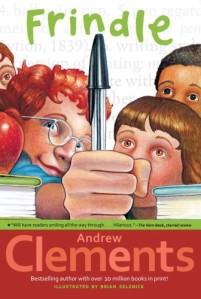 There are a lot of kids books that are fun, that are exciting, that you enjoy.
There are very few, however, that you still love and treasure long after your childhood. The type of books that you remember perfectly, that you return to and read and like it just as much you did all those years ago.
Frindle by Andrew Clements is one of those books. Written for third to sixth graders, it's a story that will keep any reader entertained throughout the whole book.
Summary
At the beginning of the book we are introduced to Nick, a fifth-grader in Mrs. Granger's class. The school year is just starting, but Nick is already experimenting with ways to sidetrack his teacher (and maybe make her forget to give the homework). Nick is known for stuff like that.
Unfortunately, the plan backfires, and Nick is forced to answer his own bogus questions about where words come from. Even though Mrs. Granger intended it as a punishment, Nick finds the subject interesting.
When Nick's friend drops a pen and Nick accidentally calls it a frindle, he gets a crazy idea: What if everyone started calling pens frindles? Since a word is given a name by popular usage, wouldn't that make it a frindle, not a pen?
Nick recruits his friends to start using the word frindle instead of pen. When they go to the store, they ask for frindles. In Mrs. Granger's class, people begin referring to pens as frindles. Unsurprisingly, Mrs. Granger doesn't like this, and anyone who uses the term frindle in her class has to write, "I am writing this punishment with a pen," 100 times.
The term frindle has become a fad, however, and many people look upon the punishment as merely a badge of honor. Before long the entire school has replaced pen with frindle in their own vocabulary.
The news media finds out about this, and it ends up making national news. The frindle fight is full blown. Will frindle be added to the dictionary, or will Mrs. Granger win in the end?
Review
This is an awesome book. Clements does a very good job of communicating a worldview in his books, and this one is no exception. Nick is a smart kid who has his own sense of what is right, and is more than willing to stand up for it.
Nick is a totally real person and so are his friends. We can also identify with his teacher Mrs. Granger, who in the end actually turns out to have been Nick's ally all along!
This book also brings up an important point that words are only what we call things, not what the thing actually is. Although not very many kids will get this at a deep level, it will definitely get them thinking.
Plus, it's a blast to read, so even reluctant readers will like it. You're totally hooked on what Nick is going to do next and what will happen with the frindle battles.
A national fad like frindle is not going to come for every idea, but it definitely encourages kids to get creative and approach life with vigor and energy. For third to sixth graders, Frindle is a sure-hit.
{ 2 comments }