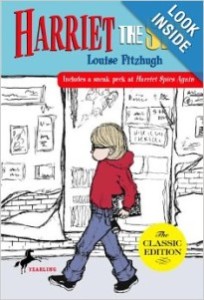 Who hasn't heard of Harriet the Spy? Louise Fitzhugh truly created a masterpiece, a timeless classic of children's fiction whose legacy will live on for years.
Harriet the Spy was one of my favorite books, and the charm and interest of the book remains as a masterful telescope into kid-nature. I think it is a must read for every kid.
Summary
For those of you who don't know, Harriet is an eleven year-old girl who wants to become a writer and a spy. Combining these together, she goes spying on different people, observing them and writing her observations down in the notebook she eternally carries along with her.
People are also important to her. She hangs out with her friends Sport and Jane, but most important to her is her nanny, Ole Golly.
Life continues and we keep learning more about Harriet until the unthinkable happens: Ole Golly announces that she is leaving! She has always been Harriet's nanny, and Harriet can't imagine what life will be like without her.
Unfortunately, things don't go so well for Harriet on her own. Shortly after Ole Golly leaves, she loses her notebook. Her friends pick it up and start reading it. The notebook is very honest, and now everyone is furious with Harriet. They try to get back at her for all the mean things she wrote in there.
Not surprisingly, this upsets Harriet very much. She just lost her nanny and her friends! Her plans to get back at her former friends start to consume all of her time, and she becomes totally ineffective in school.
Harriet's parents become very worried about her and prevent her from writing anymore. She goes to see a psychologist, who seems to understand that she's just going through normal problems.
Eventually, Harriet's friends get tired of being mad at her and Harriet rejoins the school as the editor of the newspaper.
Review
Harriet the Spy is just a great book. It's written in a mix between third and first person, so it gives us both a full and personal perspective. The story itself is third person, but includes first person journal entries from Harriet.
Harriet is just a normal girl. She's smart and ambitious, is neither a misfit nor a popularity queen, and has the same problems everyone else does. To me this book does a very good job of modeling a normal kid. Sure, she has rough times, but it's not the end of the world; she gets through it all right.
Another thing that Fitzhugh does very well in this book is create a simple, charming world. Not many books for kids written in the 1960′s are still relevant because kids have changed. Harriet the Spy on the other hand, still resonates with kids because it talks about their very nature. It paints the very picture of the simple life we all wish childhood would be.
If you haven't read it yet, read it. If your kids haven't read it yet, buy it for them. You'll remember Harriet for a long time.
Thank you for reading this review and if you'd like to purchase the book you can do so through this link. You can also like my Facebook Page or enter your email below to get more book reviews.
Enter your email address:
{ 0 comments }