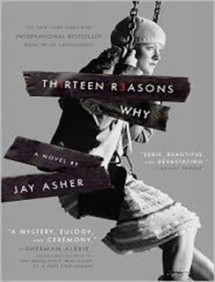 I'm always (usually :)) open to book recommendations, so when my cousin recommended to me the book Thirteen Reasons Why by Jay Asher I thought I might as well give it a shot.
Summary
This was a famous book several years ago when it came out in 2007, and I can see why. It's young adult and deals with a lot of complicated themes, such as alcohol, rape, and most majorly suicide.
This book does some things cleverly well, especially in writing style. The story is centered around a girl named Hannah who committed suicide. A boy named Clay gets a package one day, and it turns out they are thirteen tapes detailing thirteen different people and the ways in which they made her commit suicide (except Clay, who she says is ok). Clay represents the model of how the author wants us to be, although is character is a little bit artificial.
Throughout the book, we follow Clay around as he visits the spots Hannah talks about, reliving her life since she moved to the town. The author does a very good job recreating those emotions and stories, and there is a lot to be learned from this style of writing.
Note: Here is my video review.
Basically, the gist of the story is that Hannah moved into town a new girl, but very soon gets labeled all kinds of bad things. There are rumors swirling around about her that she had sex with a boy, when all she did is kiss him. Following this, a whole series of bad things happen that eventually leads her into deeper and deeper despair and eventually she decides to leave the world. The thirteen reasons why are the thirteen people who she says made her kill herself.
Basically, the whole point of the book is that if people had reached out to Hannah more and helped her, then she may have not killed herself. So we should all go out of our way to be nicer and not label people like Hannah was.
Negatives
However, there are also a lot of negative things about this book, and to me they outweigh the positives.
First, this whole book consists of people acting extremely wildly. There is a rapist and people who are allowing his actions. People are breaking each others windows, drinking a ton, spreading crazy lies. One boy even takes notes out of Hannah's "good wishes" box or whatever it's called just to get back at her. I don't know if I'm naive, but that kind of stuff simply doesn't happen. Not once have I ever witnessed people in real life acting so outrageously as in this book.
A more apt title for this book may be, "Thirteen reasons why not to act like animals." This outlandish behavior makes the book very unrealistic and greatly reduces the power of its message. If it was able to show Hannah being effected by more common behavior that we might actually do, then it would make sense. It may actually be inspiring to try and view how you're treating other people. But it's not helpful to tell us to not act like a rapist.
Although we get in touch with Hannah's emotions a lot, we never really can fully see the connection between those and suicide. The implicit connection is that feeling so alone and mistreated was what made her kill herself, but we never really get to so that. This is really not a book about suicide. The suicide is used as more of an attention-getter to get us to pay attention to what was causing Hannah pain. The main problem is seen as twofold: That she never asked for help, and that good people didn't try hard enough to give her help.
The book also doesn't hide the fact, however, that Hannah brought a lot of this on herself. She let herself be treated poorly, be cast as a person she's not, and at the end of the book even lets somebody have sex with her who she absolutely doesn't want to. The real problem is Hannah and everyone around her acting very stupidly.
Do I Recommend this Book?
This book is a crazy mess of all kinds of complicated themes that leaves us with no clear idea what is going on, which is not necessarily a bad thing. The message at the end of the book is to reach out and be nice to people because you don't know what they're going through, but this doesn't really tie into the rest of the story super well. Also, it's unrealistic because nobody is going to walk around trying to help people with their problems. It is good to be a nice person, but that isn't going to save Hannah.
Thirteen Reasons Why does do a very good job of encouraging readers to look beyond what they normally thought of people as, and instead give them a fresh chance. In this book a gross misunderstanding of Hannah contributed to her misery and eventual suicide. This one of the things the book does best and it does a very good job driving this point home.
This book has vastly positive reviews, but I believe that is mainly because it deals with such emotional topics. Not many people have ventured to write a young adult book about things like suicide, and the author must be commended for trying. But I think a lot of people like the book just because it brings up deep topics that they haven't really thought about or understood too much. The fact that there are many flaws in the way Asher deals with the subject matter is lost to them. They may be overwhelmed with the way the book throws the whole kitchen sink at them, or they think that any book that brings up emotional topics has to be a good one. I bet if my cousin were to read this book again, now that she's older and more sophisticated, she wouldn't be so impressed by it.
So in the end, there are many positives and also many negatives for this book. It is worth reading simply because it is written very well and the author manages to conjure up tremendous imagery that makes you feel like you are right in the story. Still, there are many flaws in the story that make it fall far short of the impactful book it could have been. I wouldn't give it to anyone younger than 14, and would probably recommend waiting until 15 or 16 so they don't get completely blown over by the book. In any case, it's definitely one that will you get thinking.
{ 0 comments }